Co-UDlabs promoted by the IWA/IAHR Joint Committee on Urban Drainage (JCUD)
Once per year, the Joint Committee on Urban Drainage (JCUD) publishes a newsletter to inform the community about recent and upcoming activities, events, conferences, and publications related to urban drainage.
The 2023 JCUD Newsletter, which has just been released, highlights the Co-UDlabs project and its activities, including our workshop on the Urban Drainage Metrology toolbox (UDMT) chaired by Jean-Luc Bertrand-Krajewski and Mathieu Lepot (INSA Lyon) on August 23, 2022 during SPN10 (page 11).
A large article (pages 20-22) informs the research community on the Co-UDlabs Transnational Access (TA) opportunities and our 2nd call for access to be launched in July 2023. Discover the 17 Co-UDlabs research facilities and check our TA call webpage for more info!
Read the 2023 JCUD Newsletter (PDF).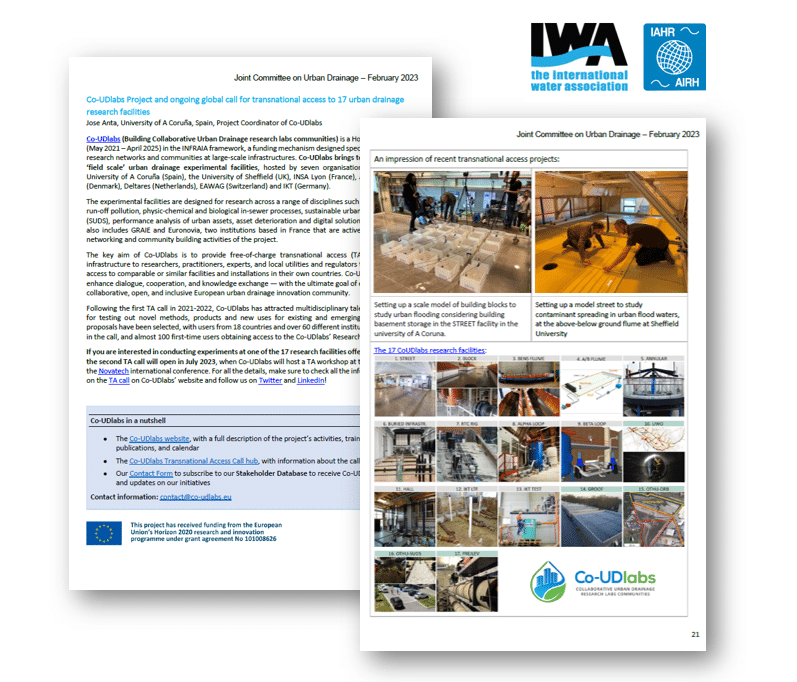 About JCUD
The Joint Committee on Urban Drainage (JCUD) is jointly operated by the International Water Association (IWA) and the International Association on Hydraulic Engineering and Research (IAHR). This joint oversight has been established to emphasize and promote effective interactions between experts on hydraulic aspects (main focus of IAHR) and on water quality aspects (main focus of IWA); such aspects are intrinsically inter-related in the field of urban drainage.
The JCUD aims to foster fundamental and applied research on urban drainage, taking into account meteorological, hydrological, hydraulic, water quality and socio-economic aspects, and promote innovative approaches to urban drainage worldwide. Among its specific interests are urban water quality, sewer sediments, source control, stormwater management, combined sewer overflows, real time control of urban drainage systems, drainage in cold and alpine climates, and data and models for urban water. The JCUD operates a number of Working Groups and holds triennial international conferences and many specialty international conferences.
Want to learn more about the JCUD, visit www.jcud.org.
Publication date : 10 March 2023