Co-UDlabs Hackathon on Transnational Access to RIs
On November 23 and 25, 2021, Co-UDlabs organised a Hackathon event, with the aim to promote the creation of groups and teams able to propose valuable proposals and ideas to be carried out in the framework of Co-UDlabs' first Transnational Access (TA) call. The Hackathon closed a cycle of supporting event that included an Introductory Webinar (October 13) and an international online Workshop on UD Practice and Research Needs, coordinated by our partners at IKT on November 3 and 4. The outcomes and insights from these event have been a catalyst of participation and engagement towards the TA call.
The Hackathon sought to identify and share valuable ideas that may tackle the most challenging problems that urban drainage systems are facing today. The Hackathon was an excellent opportunity to build synergies, teams, and improved project ideas and designs.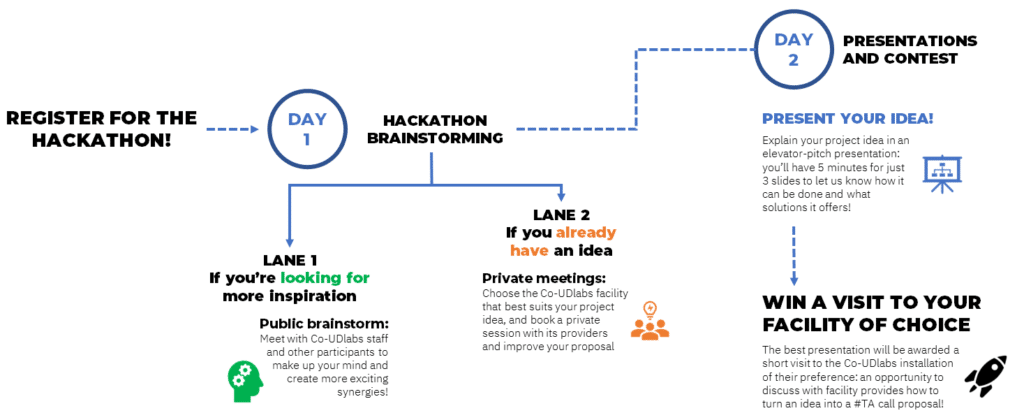 The Hackathon provided a very valuable platform for debate and mutual learning. A lot of information was available on a virtual whiteboard that the participants accessed to share insight, ideas, contact information, and potential synergies for research teams. We have now made this information available as a 'matchmaking' idea marketplace, so that practitioners and researchers from around the world can give and receive input and feedback on research pitches, fledging ideas, and new cross-institutional alliances.
Also please visit our TA Call hub for all the information you may need to prepare and submit your research proposal: the call closes on January 31, 2022.
If you have specific queries about any of the 17 facilities of our Research Infrastructure, please do not hesitate to contact the facility providers directly via this simple contact form.
If you were an attendant or participant in the Hackathon, please remember that any information and feedback that you can give us via this short evaluation form are absolutely welcome, as they will help us when organising our next training and networking events.