Researchers go on the Co-UDlabs Hackathon prize 'field trip' (with an eye on the TA)
On November 23 and 25, 2021, Co-UDlabs successfully organised a global 'Hackathon' event to meet with young researchers and practitioners from a number of scientific and technology fields. The main goal was to present this audience with the core challenges that urban drainage systems are facing today: climate change, extreme weather conditions, infrastructural stress and asset deterioration, among many others. The Hackathon wanted to be a free-wheeling discussion venue to exchange ideas, methods, and potential opportunities and solutions to these problems. Ultimately, 12 participants contributed with 14 presentations: it was a really exciting and engaging time, with very diverse backgrounds coming together to address common problems.
All presenters and their institutions were warmly invited to build on their ideas and transform them into full-fledged proposals for Co-UDlabs' Transnational Access call — the framework with which our project is offering free-of-charge access to a research infrastructure of 17 facilities and installations in seven European countries for 2022. One presentation, moreover, Katharina Fuchs' (ITWH Hannover) "SuDS in extreme climate", was awarded a Hackathon prize: a field trip to her facility of choice. Co-UDlabs arranged a very fruitful visit for Ms. Fuchs and fellow staff colleagues from ITWH to the OTHU SuDS installations of INSA Lyon, a Co-UDlabs partner.
---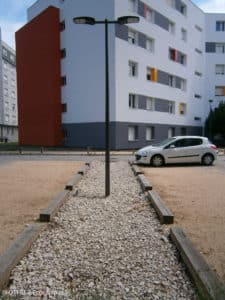 ---
The researchers and the facility providers at INSA had a full technical tour of the installations — the OTHU SuDS permeable parking lot, the trench, and the site's swale — and several conversations for the definition of a viable TA proposal for the research team.
Considering some of the technical limitations of the facility, the researchers and the INSA staff agreed on a proposal which is going to test the behaviour of SUDS under different precipitation conditions, test the existing models on the basis of measured values, and — hopefully — improve them. The user team and the staff agreed that moisture sensors should be installed in the swale, aiming at developing and building an adequate prototype for artificial precipitation compatible with the SuDS' characteristics. The team at ITWH, in collaboration with INSA, plans to address four key research questions, which will hopefully mobilise more debate and contributions from other research centres and institutions:
Is it possible to install multiple soil moisture sensors in some kind of matrix of horizontal and vertical distribution?
Is it possible to use soil moisture sensors that measure multiple values over the depth?
Is it possible to sprinkle the porous surface of the parking lots as well and install a soil moisture sensor on the side?
how should the construction of the prototype for artificial precipitation designed, or would it work to feed the SuDS from a reservoir and replicate an equivalent rainfall intensity?
Both teams are looking forward to the Co-UDlabs Transnational Access call as an opportunity to address these questions and, at the same time, explore their compatibility with existing sensors and the whole range of data that the installation is already able to collect. Ultimately, the Hackathon field trip was an extremely valuable opportunity for two teams with different approaches to meet, sit down, and discuss on viable ways to collaborate and improve the installation's effectiveness and purpose.
The Co-UDlabs TA call closed on January 31, 2022, with a significant number of proposals and contributions. These ideas will now be evaluated for both eligibility and scientific excellence: Co-UDlabs plans to use as many of its facilities as possible, fostering communication, scientific exchange, and interdisciplinary growth across Europe.
Follow us on Twitter and LinkedIn, as well as the news on our website, for more opportunities to collaborate with internationally-renowned institutions and researchers on urban drainage, UDS, and sustainability. Remember that Co-UDlabs hosts an 'ideas marketplace' in which you can share your idea or proposal at any time, and get in touch with like-minded researchers and practitioners looking for insight or teammates.
Finally, Co-UDlabs will host a new global TA call in 2023. Join our stakeholders database to receive our newsletter and stay always tuned for even more news and events!
Publication date : 2 February 2022